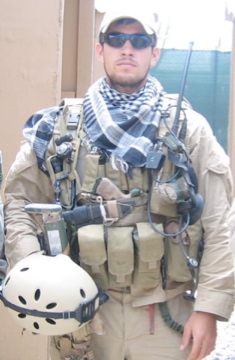 Who was Danny Dietz?
Danny Dietz was from Littleton, Colorado. Since a young age he wanted to become a NAVY SEAL and shortly after high school joined the Navy. In 1999 his dream came true and he graduated from BUDs class 232. He reported to his first SEAL Team in 2000 in Virginia Beach, VA. In the summer of June 2005, Danny was part of an elite team of four SEALs on a reconnaissance mission tasked with finding a key Taliban leader in mountainous terrain near Asadabad, Afghanistan.
On June 28, 2005, his SEAL Team was assigned to kill or capture a high-ranking Taliban leader in the Hindu Kush mountains. The four man team on the ground was made up of Michael P. Murphy, Marcus Luttrell, Danny Dietz and Matthew Axelson. Marcus Luttrell and Axelson were the team's snipers while Dietz and Murphy were the spotters. Hours after insert, they were spotted by anti-Coalition sympathizers, who immediately reported their position to Taliban fighters. A fierce gun-battle ensued between the four SEALs and a much larger enemy force with superior tactical position.
The SEALs radioed for help, and a responding Chinook helicopter another SEAL element was shot down by a rocket-propelled grenade, killing eight more SEALs and eight Army Night Stalkers. It was the second worst single combat loss for the SEALs in SEAL history.
Members from Veteran Evaluation Services attended the 3rd annual Danny Dietz Memorial Roping event in Rosenberg, Texas over the 2012 Memorial Weekend holiday. This event is named for Navy SEAL Danny Dietz who was Killed in Action in Afghanistan on June 28, 2005.
On Saturday May 26th, 2012, VES was pleased to present a donation to The Navy Seal Foundation.
The Check was received by some of the widows of Navy SEALs who have died in service to their country.
It was an honor for VES to be able to be a part of such a special event and we look forward to next year.
Visit: http://www.dannydietzmemorialroping.com for details of next year's event.