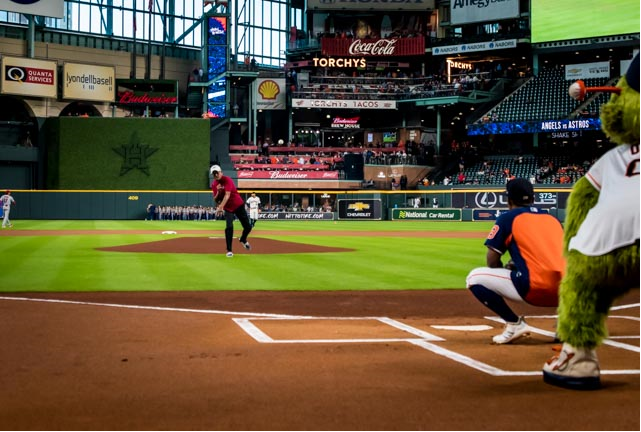 Through our involvement in numerous Veteran charities, VES was offered the opportunity to have one of our own VES Veterans throw out the first pitch at a Houston Astros baseball game against the Los Angeles Angels.
Richard Guynes is the only person we know who actually owns and wears a pair of Houston Astros shoes, so selecting him was a no brainer. Couple that with the fact that he is our eldest Veteran who has personally done so much for Veteran charities – including his 10 year role as Chairman of the Annual Scholarship Baytown Program, as a lifetime member with the Veterans of Foreign War (VFW).
Each year more than 132,000 students in grades 6-8 enter the VFW's Patriot's Pen youth essay contest. The national first-place winner wins $5,000 and an all-expense-paid trip to Washington, D.C. The first-place winner from each state competes for national awards totaling $55,000, with each first-place state winner receiving a minimum of $500 at the national level.
Established in 1947, the Voice of Democracy audio-essay program provides high school students with the unique opportunity to express themselves in regards to a democratic and patriotic-themed recorded essay. Each year, nearly 40,000 9-12 grade students from across the country enter to win their share of $2.1 million in educational scholarships and incentives awarded through the program.
The national first-place winner receives a $30,000 scholarship paid directly to the recipient's American university, college or vocational/technical school. A complete list of other national scholarships range from $1,000-$16,000, and the first-place winner from each VFW Department (state) wins a minimum scholarship of $1,000 and an all-expense-paid trip to Washington, D.C.
On August 30 at 7:15 pm, our very own Richard Guynes, Client Communication Manager and Lifelong Astros Fanatic threw the first pitch at Minute Maid Park.
He rolled up in his VES shirt and made his way to the mound. They announced "Navy Veteran, Richard Guynes." His mother, wife, kids, grandchildren and co-workers watched from the front row and screamed his name. He calmly wound up and threw a strike; right up the middle. With velocity behind it, It was on the money; perfection! Richard "Nolan Ryan" Guynes! And he's a lefty at that. In brief, he owned the moment.
Maybe if they had kept him on the mound for a few innings, the Astros would have pulled off the win!
Richard served in the Navy from 1970 – 1974, touring Vietnam in 1973. He received a Vietnam Service Medal, as well as a Letter of Commendation – US Navy 7th fleet for exemplary service and performance during the Western Pacific Vietnam Gun-line tour.