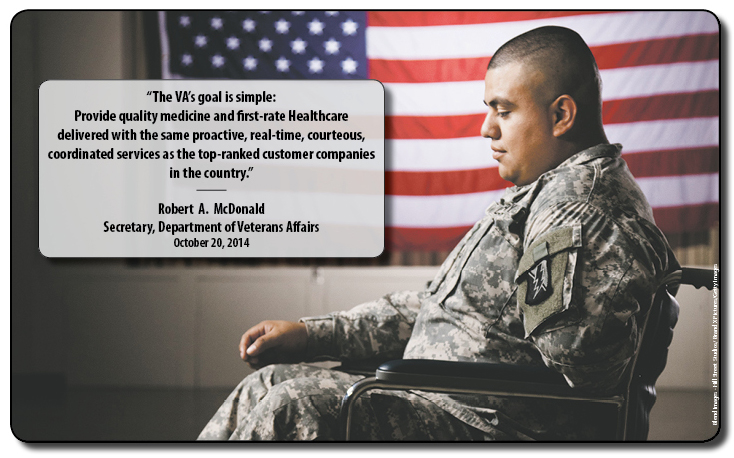 Secretary McDonald is correct – our Veterans deserve the best medical services the Veterans Administration (VA) can deliver. Providing our Veterans with "Best in Class" medical services, including outsourced Compensation and Pension Medical Disability Examinations (MDEs), must be a priority for the VA.
The VA issued a $6.8 billion Solicitation for outsourced MDEs in late 2015. The model for this Solicitation had never been attempted before. The contracts were scheduled to commence October 1, 2016; however, the contract awards in March and September 2016 were protested by multiple contractors, forcing the contracts to be placed on hold until at least January 2017. This delay could once again lead to an increased backlog in MDEs, resulting in unacceptable delays in providing our Veterans with timely benefits.
The Solicitation as drafted is irretrievably flawed. The proposed distribution of work between two competing contractors selected for each of five VA domestic districts is impractical and impossible to accurately and fairly administer, especially when three of the five districts (60% of the contracts) were awarded to two "competitors" owned by the same company. The contract awards in March 2016 contained multiple errors according to the findings of the Government Accountability Office (GAO). Following the direction of the GAO, the VA re-awarded contracts in September 2016, but these awards were likewise filled with errors, which immediately set off another round of protests by multiple contractors. At this point, there is no corrective action the VA could take which would repair the current Solicitation or the flawed contract awards.
---
HOW CAN THE VA ENSURE VETERANS RECEIVE  BEST IN CLASS MEDICAL
DISABILITY EXAMINATIONS WITHOUT FURTHER DELAY?
---
The answer is simple and can be immediately implemented. Use a proven model for outsourced MDE contracts and incorporate it into the Solicitation. Such a model for outsourced MDE contracts has been in use by the VA for over five years and was a resounding success for our Veterans and the VA, as it was instrumental in reducing the MDE backlog to its current low level. This model is known as "Full and Open Competition" and it allows for real competition among a defined set of qualified contractors. During the life of this VA contract, multiple contractors competed to provide services to 152 VA Medical Centers across the U.S. The VA Medical Centers were allowed to select the MDE contractor or contractors they believed provided "Best in Class" services based on Veteran satisfaction as well as contractor timeliness, responsiveness, quality, consistency and price.  This model functioned extremely well. The free market worked!
We strongly urge the VA to adopt "Full and Open Competition" as the contract model for this Solicitation. Adopting this contract model would bring the current protests to a halt and curtail future serial protests, while at the same time allowing VA employees and MDE contractors, through truly competitive contracts, to provide our Veterans with "Best in Class" MDE services, which is good for our Veterans, good for the VA and good for the American taxpayer!
---
Media Inquiries please follow this link: http://www.vesservices.com/?page_id=901